DTW-241
Drawing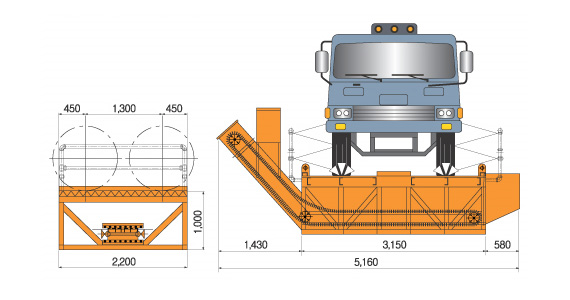 ※ The above products and specifications can be changed to improve product quality.
Specification
MODEL
DTW-241
Equipment Specifications
2,200(W) * 5,160(L) * 1,000(H)
Equipment Weight
4,000kg
Appicable Vehicle
25Ton, Large vehicle
Washing Time
20~40sec
Processing Capacity
Max 1400 vehicles / day (8 hours/day)
Electric Power Types
220V / 380V 3-phase, 220V single phase, 60Hz
Power Consumption
11.75Kw
Operation Method
Automatic tire washing system by proximity S/W detection
Water Pressure
3~4kg/㎠
Sludge
Automatic discharge
Features of GRATING type system
01. Fast and convenient management
While the vehicle is slowly passing through the wheeled equipment, the proximity switch allows the appropriate wheel to go quickly, so no operator is required. It is a wheel system that achieves superior field efficiency.
02. Efficient all-wheel drive
The East-West GRATING system is a high-performance wheeler that enables perfect wheeling of any type of vehicle, from small vehicles to heavy trucks, with powerful spraying and optimal nozzle placement.
03. Efficiency of Installation Site
Dongseo GRATING type wheel washers can be used in parallel with the entrance and exit. Unlike ROLL driven wheel washers when the installation site is sloped, it is designed to be used only when the installation area of ​​the wheel washers is kept horizontal. (Minimum horizontal distance required: 6M)
04. Excellent durability and easy post-inspection
It is a shock-absorbing GRATING system by high strength design, and it has excellent durability without any trouble.
Removing only the upper CHECK PLATE makes it possible to quickly inspect / maintain the whole of the wheel loader, which is convenient for post-maintenance.